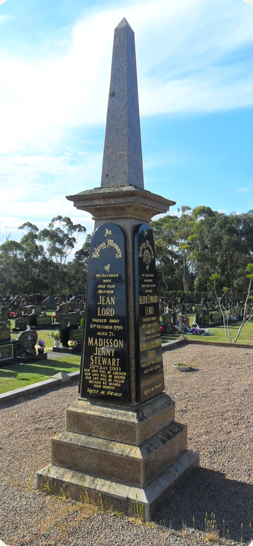 A1 Car for kids BIRTHDAY banner-1920×350 desktop-2
A1 Car for kids BIRTHDAY banner-1920×350 desktop-2
A1 Car for kids BIRTHDAY banner-1920×350 desktop-2
A1 Car for kids BIRTHDAY banner-1920×350 desktop-2

A MEMORIAL OVER THE FINAL RESTING PLACE OF A LOVED ONE, IS ONE OF THE OLDEST AND MOST BEAUTIFUL INSTINCTS FROM THE HUMAN HEART
We have been continuously trading for over 80 years. We are located at the corner of Adelong and Linden Streets in Sutherland NSW, directly opposite the roundabout, middle gate and Forget Me Not cottage outside Woronora Cemetery.
Registered with all cemetery trusts, we are a member of the NSW Monumental Masons Association and carry out all aspects in the construction of new monuments as well as the restoration of existing monuments.
Over the years we have gained a reputation for having the highest quality workmanship along with old fashion service. All works are completed by our Stone Masons with over 45 years experience. This combined with our expert advice gained from our vast knowledge of available styles and types of monuments, assists you when making a decision on the choice of monument to best suit your needs and budget.